L'ascenseur Magnifique
A downloadable game for Windows and macOS
You are the operator of a novel elevator system during its first public demonstration. Bring each dazzled guest to their floor before the lose their patience.
L'ascenseur Magnifique, as the inventeur Mr Monteau called it, was a dual elevator system that drive two cabins at once allowing, in theory, twice as many people to ride with only one operator.

Operator Controls
- Key up and down to move cabin (the left one!)

- Hold arrow key to not stop at a floor
- Spacebar to pause the game
Unfortunately this elevator system never took off. Mr Monteau went bankrupt afterward (strangely not from spending his money on his invention but due to an over-consumption of absinthe). The system happened to be slightly too challenging for operators and the engine too weak to even handle a single cabin.


Operator Tips
- You don't need to stop at every floor. Make strategic choice. Hold the arrow keys and release when arriving to the right floor.

- Elevator speed changes depending how many people are in the cabins. Do not take unnecessary guest when you go up, it would slow you down.
- To go down faster, welcome more guest in the cabin or bring guest to their floor on the other side. Basically keep the balance of the elevator in check.

______________

This game was a solo project made in 48 hours for the GMTK Game Jam 2021 using the game engine Löve.


Download
Comments
Log in with itch.io to leave a comment.
Score is not resetting to 0 after gameover :P

Hello from the Playdate community ♥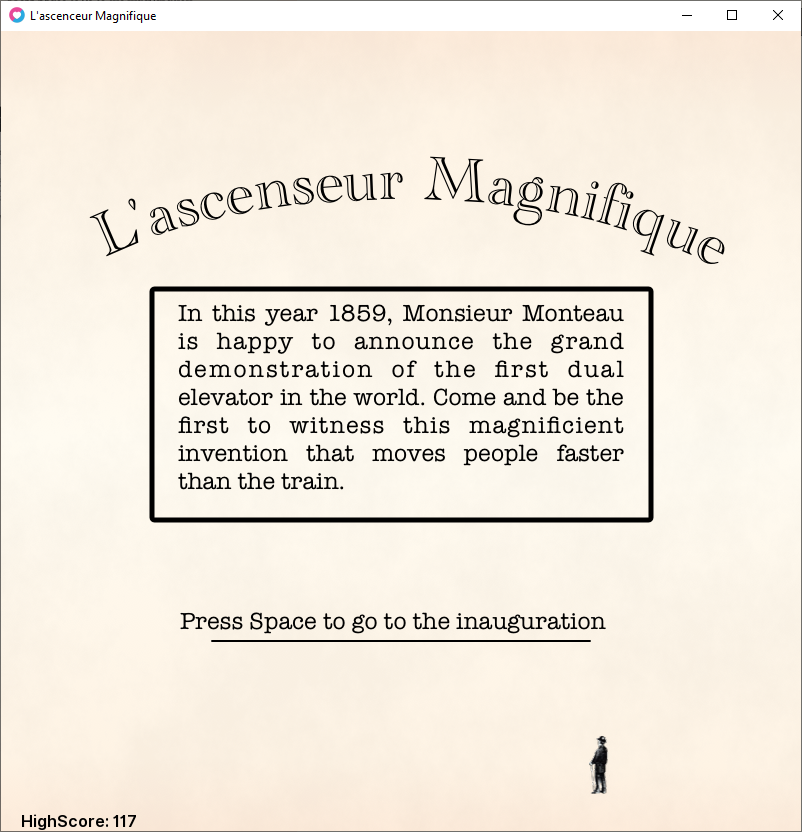 Damn it! 🤦‍♂️

Thanks for pointing that out, the score was a last minute addition and obviously not tested enough 😅
(Playdate 4 ever!!!)